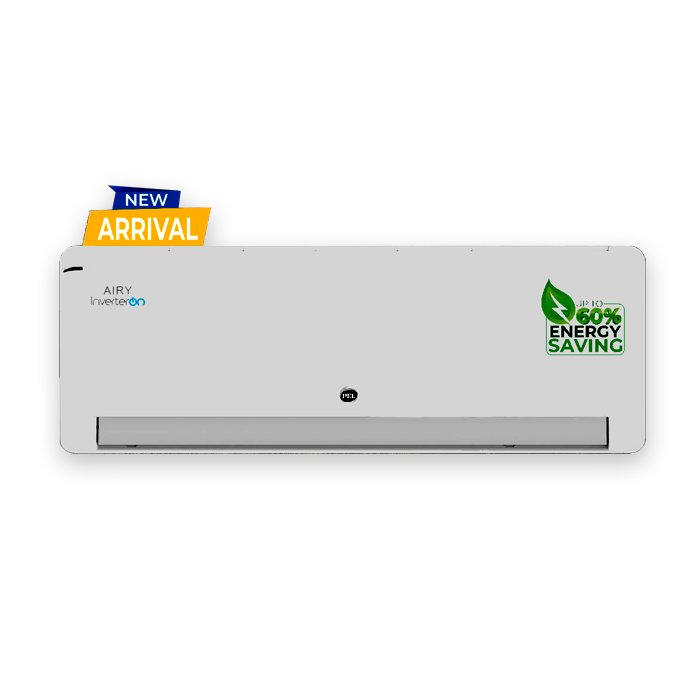 PEL InverterOn Airy Air Conditioner (Cool Only)
High capacity rotary compressor that can work at high temperatures or in low conditions.

The latest innovative technology that cools the room in just 30 seconds.

This advanced feature protects and auto cleans the air conditioner with its anti-rust, exclusive air-purification and extended life feature.

Experience faster cooling with 4D airflow that assist in getting rid of hot air out of the room quicker while circulating more cold air.
| SPECIFICATION | PEL InverterOn Airy |
| --- | --- |
| Rated Capacity - Cooling | - |
| Rated Running Current - Cooling | - |
| Maximum Current | - |
| Rated Power Cooling | - |
| Maximum Power | - |
| Seasonal / Energy Efficiency Ratio (SEER/EER) | 3.0 (EER) W/W |
| Power supply source | 220~240V/50Hz V/Ph/Hz |
| Refrigerant | R32 |
| Air Flow Volume | 580 m3/h |
| Outdoor Noise level | 42/52 dB(A) |
| Indoor unit weight (Net ) | 8 Kg |
| Outdoor unit weight (Net ) | 27 Kg |
| Evaporator - Material | Hydrophilic aluminium foil |
| Net Dimension - Indoor (WidthxDepthxHeight) | 750×285×200 mm |
| Net Dimension - Outdoor (WidthxDepthxHeight) | 730×545×285 mm |
Split AC installation Cost:
Description (Wall Mounted Split AC 1-2 Ton)
Tariff (PKR)
PEL Technician Installation
3000
Dismantling Charges in case of previous AC
1300
Extra Copper Pipe (RFT)
600
PVC Drain Pipe (RFT)
120
Simple Grooving without Pipe Concealing (RFT)
120
Iron Frame Charges (Powder Coated)
1500
Filling of Holes with white Plaster of Paris (RFT)
200
PVC Duct for Refrigeration pipe (RFT)
300
Additional Gas Charging (if required)


**In case of more than 10ft outdoor height

(R-22) 300 Per RFT
(R410a) 500 Per RFT
Compressor Warranty :

10 Years

Parts Warranty :

0 Year

PCB Kit Warranty :

5 Year